DROMANA Fire Brigade has named a further two of its vehicles after long-serving past and present members.
Robyn Desmond has been a Dromana brigade member for 31 years, was one of the first female lieutenants in a Victorian urban brigade and the first female deputy group officer in CFA's District 8.
Her husband Captain Timothy Desmond describes her as "a bit of ground breaker", although Robyn says she is just doing her job. She has been the Dromana brigade's president since 2008.
The unveiling of the naming of the Dromana car and recognition of her more than 30 years' service was made at the brigade's first annual dinner since COVID-19.
Timothy Desmond said he wanted to continue acknowledging the contributions of long serving members, and the latest car was the fifth sponsored through the Dromana Ritchies Supa IGA community benefit scheme.
"The idea was for our vehicles to all have meaning going forward with a significance to their name – and should they get replaced over time, their name will continue across the new ones," he said.
"Robyn looks after our brigade's governance and where all our funds go. She runs all our meetings, she oversees the secretary and treasurer and does all our dress uniform," he said.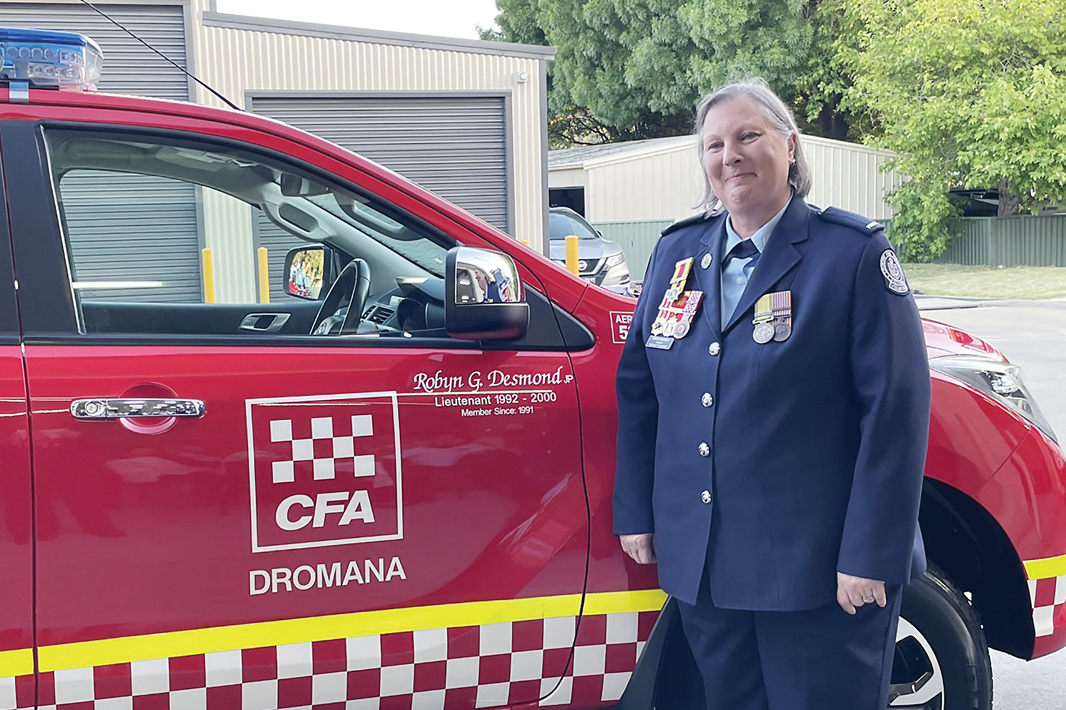 "When she stopped turning out, she had responded to around 1100 call outs. Now, the only operational role she plays is as the scribe for the strike team leaders."
The annual dinner night began with the handover of the brigade's new CFA issued 4.4C Iveco heavy tanker by Deputy Chief Officer Kaylene Jones, named after former captain, Charles King.
King has served more than 44 years in CFA brigades from Mount Eliza to Beechworth and Dromana.
Now Dromana's patron and elder statesman, Desmond said King was delighted that the brigade had chosen to name its tanker after him.
"Charles is very proud of the brigade, and the work that we do. He too is extremely encouraging to new members and has a genuine interest in making sure we progress positively as a community," Desmond said.
"Charles has experienced many roles in CFA, being captain, foreman, secretary, treasurer and president. His extensive knowledge also saw him as manager of member services at CFA as a staff member for 10 years."
Desmond said he still receives calls from King after challenging callouts.
"It could be a nasty road accident and he'll phone me the next day to make sure the troops are all right. That's just the kind of man he is." he said.
The brigade's pumper is named after the late Captain Walter Guy and its rescue vehicle was named after fellow former Captain Craig Solly.
"We have some incredible people who have served the Dromana Fire Brigade and I am pleased we can acknowledge their amazing contribution honourably," Desmond said.
First published in the Southern Peninsula News – 7 March 2023