MORNINGTON Peninsula Shire Council is yet to work out specific details of its "friendly council partnership" with Roper Gulf Regional Shire in the Northern Territory.
The partnership agreement at this stage consists of a single page signed on 1 November last year by then mayor Cr Anthony Marsh, deputy mayor Cr Lisa Dixon and CEO John Baker and their Roper Gulf counterparts.
The document states: "The Roper Gulf Regional Council and the Mornington Peninsula Shire Council agree to establish a Friendly Council Partnership ('Gulf to Peninsula Partnership') to explore opportunities between the two areas."
Peninsula councillors unanimously agreed to the partnership on 31 October last year, but no public announcement has yet been made.
A report by Roper Gulf governance officer on the shire's 14 December agenda lists "meeting with Mornington Peninsula – Gulf to Peninsula Partnership" as being among the mayor Tony Jack's "activities and undertakings" in the previous six months. The report was received and noted by the council.
The 201,000 square kilometre Roper Gulf shire's 268 staff (full time and part time) manage a $40 million budget on behalf of its 6500 residents. Mornington Peninsula Shire, 723 square kilometres, has an income of more than $270 million and about 170,000 residents.
Two weeks ago, the shire told The News that there were no documents outlining "specific areas of how the partnership will involve each of the two municipalities".
"While on the surface, Roper Gulf Regional Shire might seem quite different from Mornington Peninsula Shire, we deal with many of the same complex issues when it comes to looking after the wellbeing of our communities," the mayor Cr Steve Holland said.
"Partnerships such as this provide a range of benefits, including the sharing of knowledge and ideas. Councillors will explore avenues to build on this relationship as those opportunities arise over the coming years."
A report by Baker and governance manager Pam Vercoe to peninsula councillors at the 31 October meeting said a "friendly council partnership" would build on existing relationships between peninsula residents, school children and "elders with the Roper Gulf community" ("Partnership 'opportunities' assured" The News 1/3/23).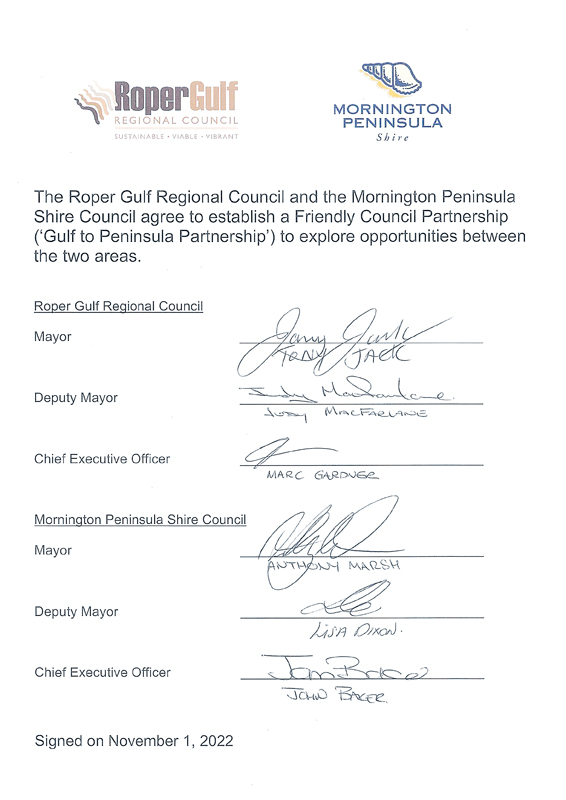 "We also hope to build economic and community development relationships over time and further explore other opportunities, for example cultural, knowledge and opportunities for councillors and officers to learn from each other," Baker and Vercoe's report stated.
Baker and Marsh had visited Roper River following "initial exploratory discussions" between officers and mayors of the two municipalities.
While there they had had met with "key stakeholders" and visited communities "to develop a potential partnership between the two councils".
Details of that visit were revealed when Marsh claimed expenses for the trip ("Expenses test memories" The News 21/2/23).
Along with his request for reimbursement of expenses Marsh said his September 2022 trip to Roper Gulf was made "to explore potential opportunities for creating a more enduring relationship between the two councils".
The idea had been informally discussed and supported by "the councillor group" which led to his and Baker's trip "to meet with the mayor and chief executive officer of the Roper Gulf Regional Council and to tour the region".
First published in the Southern Peninsula News – 25 April 2023