IT'S well known among equestrians that being around horses can have a therapeutic effect on mental health, but there are also a range of physical and social benefits that come with riding these beautiful animals.
The coordinator at Riding for the Disabled Peninsula, Jenny Stidston, says the program is helping riders gain confidence, and at the same time improving their coordination, balance, muscle development and communications skills.
"RDA helps to enrich lives through specialised programs and a relationship with horses, and it can be very helpful for people with a variety of physical and intellectual disabilities," she said.
Stidston says the riding experience also helps participants develop a sense of personal control. Studies had shown that young people who participated in horseback riding and horse care showed increased emotional regulation and resourcefulness.
Operating from its new home in Main Ridge, courtesy of the Uncommon Folk Foundation, Riding for the Disabled Peninsula provides an all-weather, undercover program for riders, supported by trained volunteers and accredited coaches.
Stidston said the farm provided a great environment for the riders and the horses.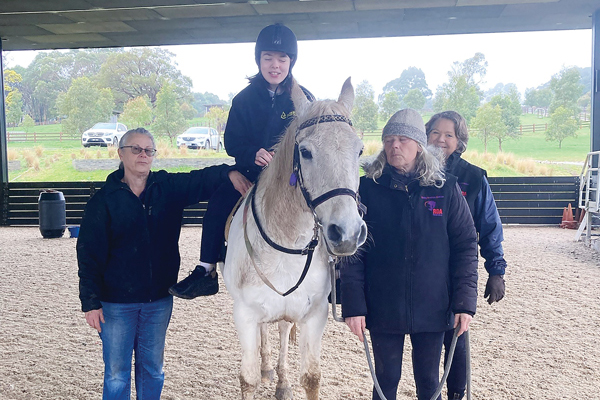 "We were so thankful to the Uncommon Folk Foundation, they have provided a perfect venue for us and somewhere for our horses can stay," she said.
"Our participants can continue to enjoy the experience of horse riding and benefit from the exercise and social connection."
Stidston said the program had been embraced by the peninsula community, with local sponsors making its continuation possible.
Participants in the programs are selected by special developmental schools in consultation with RDA coaches or through RDA assessment and a waiting list.
Stidston said programs were tailored by accredited coaches in consultation with therapists to help the riders meet needs and achieve specific goals. These programs included early intervention, horsemanship, mounted activities, vaulting, music, strength and coordination exercises.
For more information email RDA Peninsula at rdavpeninsula@gmail.com or go to rdapeninsula.com.au