WARNINGS to use only wildlife-friendly baits for rats and mice have been issued after at least six birds of prey, including tawny frogmouths, owls and goshawks have been found dead on the southern Mornington Peninsula.
The birds did not show any signs of injury and all except one were dead when discovered.
Peninsula marine advocate and researcher Kent Stannard said birds of prey dying from baits was a long-standing issue in the area, but mainly on the back beach and national park.
Stannard said he recently found several dead birds near the Whitecliffs foreshore camping ground and suspected they may have eaten rodents dying from baits that caused animals to haemorrhage.
"I suspect the construction going on around there may have flushed out the rat population, but it raises the question, have they been baiting?" he said.
"It's very sad to see and it would good if people knew not to use the commercial baits that kill birds of prey that eat the rodents."
Whitecliffs manager Max Patton said the campground did not use rodent baits "under any circumstances" and was concerned about a number of bandicoots found dead on the ocean beach side.
The Department of Environment, Energy and Climate Change said it was unlikely that its baiting programs were the cause.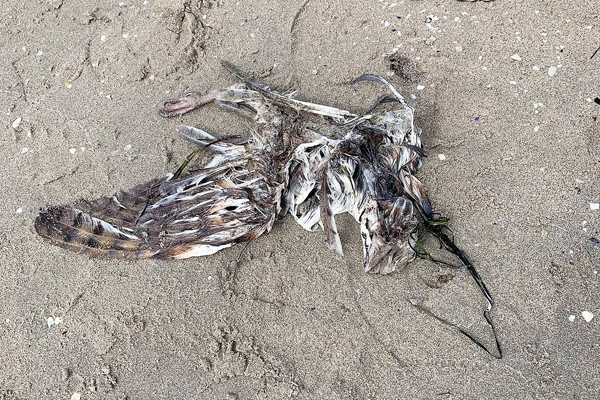 Stannard said fox baiting at Truemans Road Reserve and a recent rat infestation on the foreshore could have led to deadly baits making their way into the birds' digestive systems.
Both DEECA and Parks Victoria conduct pest animal baiting, but their documentation states the baits are "placed in a way that reduces the risk to non-target animals".
Rye wildlife carer Brenda Marmion said secondary poisoning of birds and animals was common with commercial rodent baits.
She said there were wildlife-safe baits available that did not cause secondary poisoning and encouraged people to use only first generation baits.
"We had a really bad rodent infestation in Rye recently – they were everywhere and in the house, but my pest controller only uses products that would only harm an animal if it literally ate kilograms of it," she said.
Marmion said a tawny frogmouth she took in recently did not look injured but died shortly after coming into care.
"It's usually rodent bait and they die a horrible, slow death," she said.
"There are alternatives and people really need to look at those."
Birdlife Australia says the Australian Pesticide and Veterinary Medicine Authority has not acted fast enough to regulate the sale of second generation rodent poisons.
It encourages people to write to members of parliament to restrict the sale of second generation poisons.
The organisation is also urging people to avoid products containing difenacoum, brodifacoum, bromadiolone and difethialone, which are long-lasting and much more likely to unintentionally poison wildlife via secondary poisoning.
First published in the Southern Peninsula News – 5 September 2023