DOG owners are again being reminded of the need to keep their pets on leashes or under control in public areas after a tragic end for a kangaroo thought to have been chased into the water at Dromana.
Wildlife rescuers, Mornington Peninsula Shire Council rangers and police were called to the beach at Dromana beach on Thursday (9 November) morning, when a kangaroo was seen lying on the sand, drenched and clearly unwell.
The area was cordoned off to give the kangaroo time to recover and stop it from jumping out onto Point Nepean Road until vets could arrive to assess it.
Volunteers from Vets for Compassion and Wildlife Victoria arrived soon after and determined that the marsupial had old injuries to a front paw, recent injuries to its face and eye, and was beginning to show signs of capture myopathy – an extreme and usually fatal response to overexertion. The decision was made to euthanise the male kangaroo to prevent it suffering any further.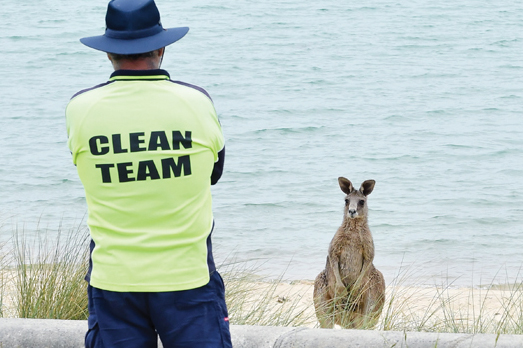 The mayor Cr Steve Holland said he was disappointed by news of the kangaroo's plight.
"It is very sad. I understand the kangaroo was chased by a dog onto Dromana beach," he said.
"Wildlife Victoria volunteers were called, who darted and assessed the kangaroo. Sadly, the kangaroo was found to have significant injuries and was humanely put down.
"Our officers are following up with possible witnesses to assist with their inquiries.
"We want to remind dog owners that they are required to have their pets under effective control at all times."
Arthurs Seat resident Mary Waterman, from the Save Kangaroos on the Mornington Peninsula (SKOMP) group, said it was tragic that so many kangaroos were being displaced from their home ranges by development, or killed on the roads as they were driven out of their areas.
She said the kangaroo had possibly made its way to the beach after travelling through areas that kangaroos had traditionally used as thoroughfares but were now housing estates.
First published in the Southern Peninsula News – 14 November 2023