DISTRICT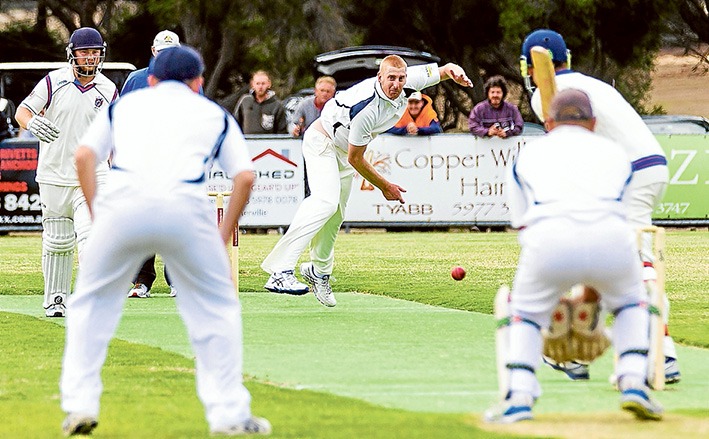 PEARCEDALE won back-to-back premierships on Saturday after dominating the third and final day of the MPCA District grand final against Flinders.
After beating Frankston YCW in the Sub District grand final last season, the Panthers had an almost faultless 2015-16 season and capped it off with the District flag.
For the first time in the clubs' history, Pearcedale will play in Provincial next season.
The win brought down the curtain on the career of Shane Maggs, who played juniors with Pearcedale before playing higher grade cricket. He took the final wicket of the match, knocking out the stump of Flinders' number 11 Matt Burns for a duck. He finished with 2/26 from 15.2 overs.
Pearcedale went into the final day minus a bowler after Sam Frawley injured himself and failed to pass a fitness test.
This left a lot of work to be done by Shayne Gillings, Kaine Smith, Chris Dew and Maggs. Without question, they were all keen to have the rock in their hands.
Flinders resumed on 2/36, chasing Pearcedale's 9/272 after Chris Dew hit and unbeaten 159 the week before. Dew also had both Flinders wickets at the start of the day.
With an extremely slow scoring rate on an equally slow outfield, Flinders had their backs to the wall.
The Sharks added just two runs in the opening seven overs of the day before there was a 56-minute rain delay.
However, when play resumed at 1.43pm, it was all downhill for the Sharks at that point.
Kaine Smith, who is always neat and tidy with ball in hand, picked up the wicket of Mitch Stansborough (10) when a full toss was hit straight back to him.
Tom Clements came to the crease with an intent to score, however, he edged a Gillings' ball to second slip and left after scoring just five runs. At that stage, Flinders was in some real strife at 4/63.
Andy Power was looking strong at the other end for the Sharks and when Simon Parrott joined him at the crease, Flinders' president Clint Munday claimed on radio RPP that this was the "key partnership" for his club and would go a long way in the team getting back into the match.
However, Parrott (0) lasted less than an over when he tried to smash a Smith full toss out of the park, only to hear the rattle of his leg stump. Flinders was gone at 5/66.
When Power tried to whip a Gillings' ball off his legs, edged and got caught behind down the leg side, Flinders was 6/70.
The loss of Power brought Blake Hogan-Keogh to the crease with league legend Shane Beggs.
Again, Munday told RPP listeners that he believed this was another 'key partnership' for his club. Munday was hoping more than anything and giving his team's listeners some positive reinforcement.
The reality was that the Panthers were all over the Sharks. The Sharks had scored almost less runs than it had faced overs and had four wickets in hand on a ground that was extremely difficult to get to the boundary. Flinders were gone.
At tea Flinders was 6/74 off 66 overs. They needed 199 runs in 45 overs to win the game.
After tea things didn't get any better for Flinders.
Hogan-Keogh was solid for 37 off 49 deliveries before he became Maggs' first victim, Beggs made 12 before chopping one on off Gillings. Dwayne Field was run out for eight and Burns went for a duck. Within a blink of an eye, Flinders weres bowled out for 136.
Gillings finished with 3/39 off 23 overs, Smith snared 2/23 off 19, Maggs took 2/26 and Chris Dew finished with 2/41 off 23 overs.