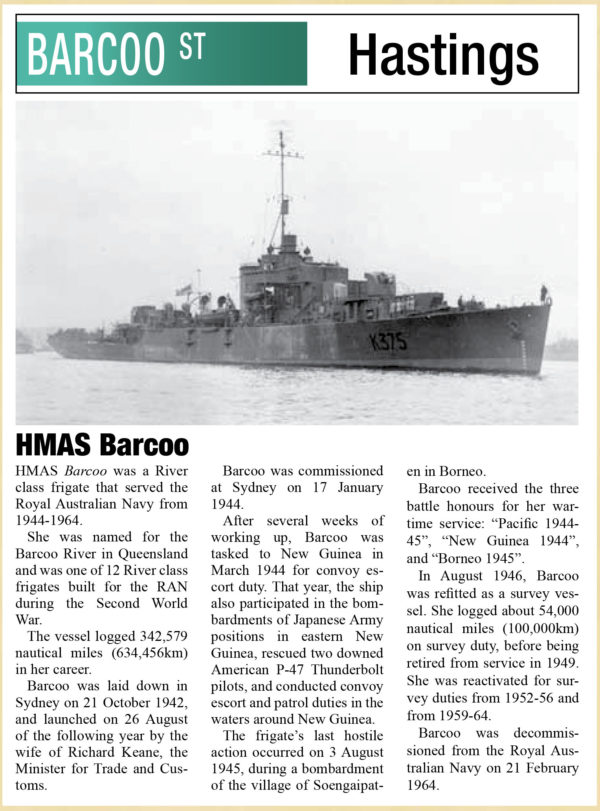 WITH development of new parts of Hastings in the 1960s and 1970s, the decision was made to name many of streets in honour of  Royal Australian Navy vessels.
This was probably due to the towns proximity to and connection with HMAS Cerberus, the navy's premier train­ing establishment where about 6000 personnel are trained annually, averaging 800 trainees at Cerberus at any one time.
In following pages we look at Hastings' "navy streets", but first a bit of history.
The Commonwealth Naval Forces were established on 1 March 1901, two months after the federation of Australia. On 10 July 1911, King George V granted the title of "Royal Australian Navy".
During the First World War, the RAN was initially responsible for capturing many of Germany's South Pacific colonies and protecting Australian shipping from the German East Asia Squadron. Later in the war, most of the RAN's major ships operated as part of Royal Navy forces in the Mediterranean and North Sea.
During the 1920s and early 1930s, the RAN was drastically reduced in size. As international tensions increased, however, the RAN was modernised and expanded. Early in the Second World War, RAN ships again operated as part of the Royal Navy, many serving with distinction in the Mediterranean, Red Sea, west African coast, Persian Gulf and Indian Ocean.
Following the outbreak of the Pacific War and the virtual destruction of the Royal Navy in Asia, the RAN operated more independently, or as part of United States Navy forces. By war's end, the RAN was the fifth-largest navy in the world.
After the war, the size of the RAN was again reduced, but it gained new capabilities with the delivery of two aircraft carriers. The RAN saw action in many Cold War-era conflicts in the Asia-Pacific region and operated alongside the Royal Navy and US Navy off Korea, Malaysia and Vietnam. Since the end of the Cold War, the RAN has been part of Coalition forces in the Persian Gulf and Indian Ocean and a critical element in Australian operations in East Timor and the Solomon Islands.
Currently, the RAN fleet consists of 51 vessels, including frigates, submarines, patrol boats and auxiliary ships. The modern RAN is tasked with defending Australian waters and undertaking wider deployments.
Current deployments include contributions to the multinational force in Iraq, support for the UN mission in East Timor and a "regional assistance mission" with New Zealand in the Solomon Islands.