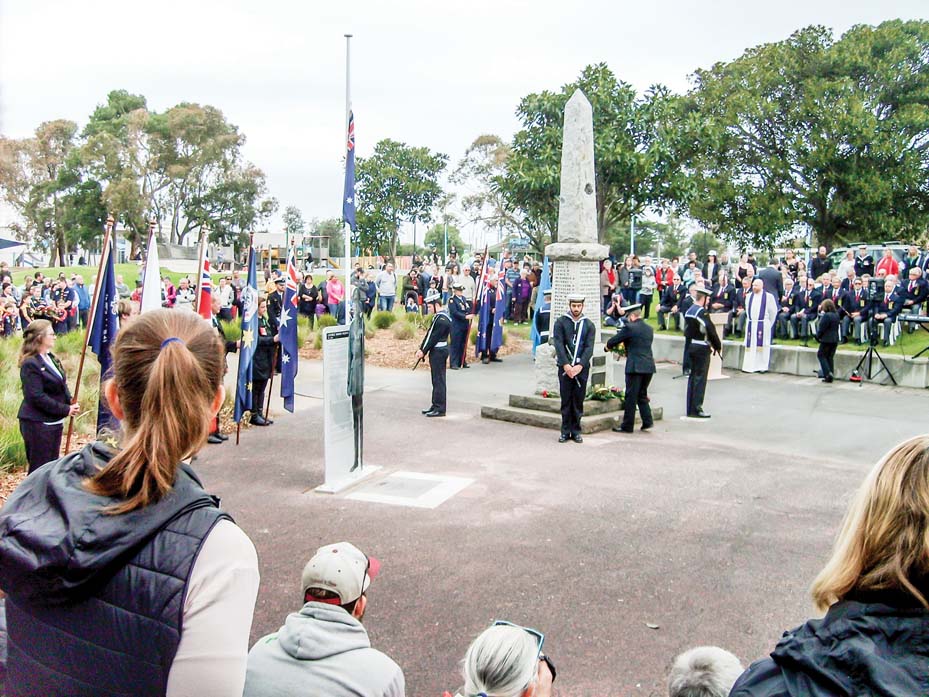 CROWDS flocked to Anzac Day commemorations at Mornington Peninsula towns last week.
Organisers were thrilled with the huge turn-out of young people which they hope will ensure the future of the national event.
Hastings RSL sub-branch president Keiren Gallagher said the day went "really well".
"The place was packed with 300-400 at the breakfast and more than 2000 at the main service," he said.
"It was hard to see how many we at the dawn service but I turned around to thank the scouts and school groups and saw a sea of young faces, which made me happy as they are our future."
A feature of the 11am service was the dedication of a paver near the cenotaph in memory of Hastings man, former soldier George Ingram, who served with distinction in both world wars.
Tyabb's Anzac Day Dawn Service has come a long way since former Navy man Gary Taylor and wife Ellen began the tradition about 15 years ago. With about a dozen attending Mr Taylor would play the Last Post on a car cassette player. In subsequent years the music came from a portable cassette player as more and more people attended.
Now, the service is an institution in Tyabb with a gunfire breakfast put on by Somerville/Tyabb Rotary and 1st Tyabb Scouts. Former soldier Cr Julie Morris represented Mornington Peninsula Shire with husband Ron, also an ex-serviceman, and their daughter.
Hastings RSL vice-president Bruce Dollisson conducted the service and the Lord's Prayer – as would have been known by the Diggers – was read by Pastor Rod Whitford, of Westernport Christian Family Church.
Tyabb Ratepayers' Group organised the service on behalf of Hastings RSL before Tyabb Railway and Tyabb primary schools, Flinders and Padua colleges, Somerville Tyabb Rotary, Westernport Christian Family Church, 1st Tyabb Scouts, Tyabb CFA and the football and netball club.