SOCCER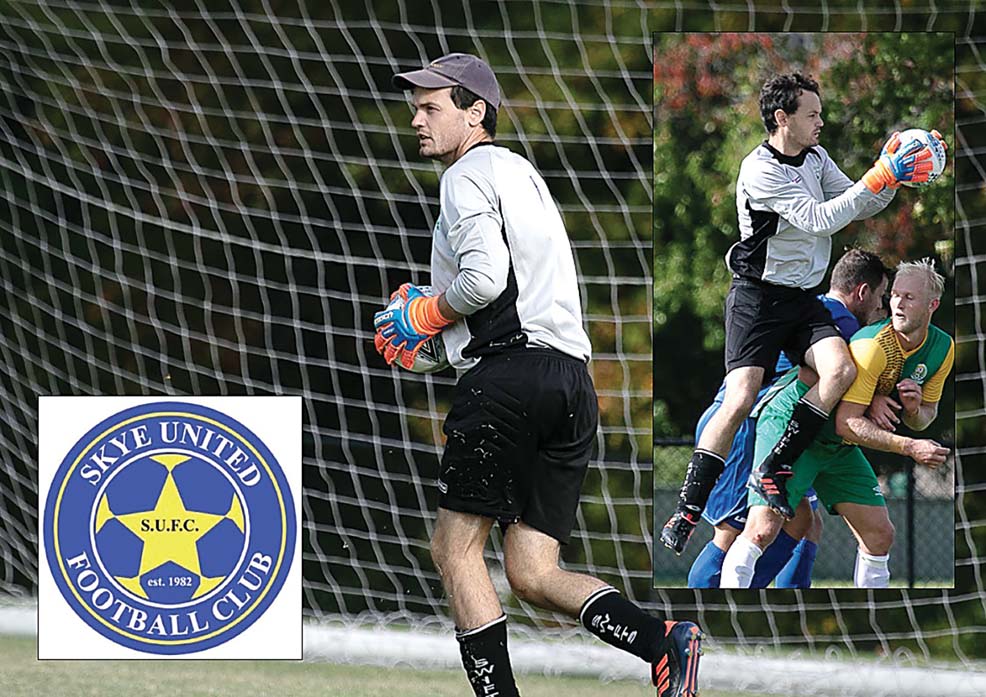 WHAT Jonathan Crook did to Upfield last week was night-time robbery.
The big man from Matamata Swifts effected a string of remarkable saves to keep Skye's nose in front and keep Upfield's onslaught at bay in a pulsating FFA Cup tie.
Try as it might Upfield could not find a way past Crook and Skye held on for a 1-0 win that clinched one of 32 Victorian spots remaining in the 2019 national competition.
This clash had to be replayed after a floodlight failure in the 70th minute at Aston Fields in Craigieburn had forced an abandonment a week earlier with scores locked at 5-5.
Now both sides were forced to travel to Darebin on a Tuesday night thanks to a bizarre Football Victoria decision and Skye was staring down the barrel as injury had claimed Gerard Lawler, Daniel Attard and Harrison Michaelis.
However the local side was the benefactor of Aaryn Rix's brief flirtation with Baxter and the new signing featured in the starting line-up.
Skye scored in the 8th minute when a precise Mark O'Connor free-kick was powered home by the head of Daniel Walsh, his fifth goal of the competition.
This was the cue for a bombardment of the Skye goal but a string of Crook saves kept Skye ahead while a rare chance on the break saw Jason Nowakowksi miss an opportunity to double the lead.
Nothing changed in the second half as Upfield laid siege to the Skye goal and Billy Painting, John Andrinopoulos, O'Connor, Walsh and Nowakowski all received cautions.
Skye midfielder Jack Gallagher was red carded in the 70th minute and despite Upfield breaking through on a number of occasions Crook was unbeatable.
Skye gaffer Phil McGuinness was still marvelling at his keeper's display the following day.
"I've never seen a goalkeeper put on a display like that at amateur level," McGuinness said.
"It was unbelievable and when you have the opposition supporters applauding your performance you know you've done something right.
"He's an excellent keeper and I'm just glad I got to witness a display like that."
Upfield later congratulated Crook on its facebook page describing his effort as "exceptional".
Last Thursday night a second local club reached the round of 32 when Langwarrin took care of business against State League 2 North-West ladder leader Corio with a 4-1 win at Hume Reserve in North Geelong.
Despite this being a potential banana skin for the visitors Langy head coach Scott Miller gave debuts to former Melbourne Victory youngsters Luke Goulding and Dionis Shabani with Goulding playing as a central defender in a 3-2-4-1 formation and Shabani joining Jordan Templin as an attacking midfielder.
Although Langy enjoyed the bulk of possession in the first half it took an own goal to give it a slender half-time lead.
Five minutes into the second period Corio striker Alessandro Stefano equalised with a header but three goals in six minutes sealed the home side's fate.
Roddy Covarrubias was gifted a tap-in in the 60th minute after Corio keeper Tom Banks mishandled.
Two minutes later Johnny Kuol made it 3-1 when he rounded his opponent at the far post and slotted home from close range.
A trademark David Stirton free-kick bent around the defensive wall in the 66th minute completed the scoreline.
Langy head coach Scott Miller is keen to take the side deep into the prestigious competition while maintaining its promotion challenge in NPL2 East.
"A good cup run gives the club great exposure," Miller said.
"It's a brilliant tournament and having worked with Foxsports last year and seen a number of games I think it's a great concept.
"For Langwarrin to be potentially playing an A-League club within four games would be amazing."
But Miller's focus now turns to the club's league campaign with a challenging away fixture on Friday night against Moreland Zebras.
Jaiden Madafferi has recovered from injury and is available for Friday's match while Wayne Wallace returns from suspension.
In State 3 news Frankston Pines recorded its first win of the season when it downed Monash Uni 2-0 at Tatterson Park in Keysborough on Saturday.
This home match for Monash was mired in controversy as it could have been played a few weeks ago but the university side refused to reverse the fixtures and play on a Friday night under lights at Monterey Reserve, an option offered when it became known that Monash playing fields would be unavailable.
Football Victoria's competitions department had allocated pitch three, a grass pitch, for Saturday's clash but Monash successfully argued that it had booked the venue's synthetic pitch with the local council and that the game must be played there.
The heat made conditions oppressive and Pines had keeper Alfonso Cardinale to thank for a 1-0 half-time lead after Monash had fashioned the better chances.
Winger Sarmad Nikakhter was a constant menace down the left and could have put Monash ahead from a tight angle in the 5th minute but Cardinale spread himself well and blocked at the near post.
In the 19th minute Pines' central defender Cedric Benza was caught in possession but Cardinale saved his teammate's blushes when he effected a superb smother to deny Nikakhter in a one-on-one.
Pines broke the deadlock five minutes from half-time with a superbly constructed interpassing move down the right involving Stefan Soler, Travis Ernsdoerfer, CJ Hodgson and Jason Bradbury with Bradbury's low drive from inside the area beating Monash keeper Alex Grantham.
Two minutes into the second half Nikakhter pounced on a defensive lapse from Bailey Atkinson and hammered a low shot that cannoned off the near post and in the 53rd minute there were howls of protest from the Monash bench after Cardinale charged off his line and clashed with Arnie Clever leaving the winger sprawling on the ground as the referee waved play on.
In the 65th minute Pines constructed a flowing move down the left and when Soler was brought down the referee had little hesitation in pointing to the spot.
Again Monash was unhappy and it was touch and go whether or not the offence was inside the area.
Up stepped Hodgson who had no trouble converting and for the first time this season Pines were cruising.
Serge Yanez had come on in the second half and his link-up play with Soler, Hodgson and Ernsdoerfer was a feature.
Soler broke through in the 69th minute and should have put Monash out of its misery but Grantham did well to get a touch and send the ball out for a corner.
A cheeky Yanez backheel in the 73rd minute sent the impressive Kevin Brown scooting down the left and his cross to the edge of the box was met by a superb diving header from Soler and Grantham was at full stretch as he parried.
In the 80th minute Soler again broke clear into a one-on-one with Grantham only to shoot wide of the far post when he could have taken another touch.
While Pines were good value for the three points no-one is getting carried away at Monterey Reserve with success against one of the poorer sides in the league.
Pines gaffer Kevin "Squizzy" Taylor used a different formation for this match with Bradbury and Hodgson up front and Ernsdoerfer freed up to play in behind them.
"You could see the confidence of the players rise during the course of the game," said Taylor.
"I thought we were okay in the first half but lacked penetration however we trialled a new system on the Tuesday and Thursday and players were still adapting to it.
"The win was important though to kickstart our season, very important."
Daniel Mota, Connor McAndrews and Alex Bevacqua were unavailable but will come into contention for this weekend's away fixture against Brighton.
In State 1 news Mornington defender Josh Valadon has had his suspension for being sent off against Casey Comets reduced from five to three matches.
Comets midfielder Brodie Paterson was suspended for two years for his sending off in the same match.
He was also directed to write a letter of apology to Mornington midfielder Sam Catherine.
Paterson's suspension starts after he completes a respect and responsibility course and should he wish to register to play after serving his suspension he must complete another respect and responsibility course.
In State 4 news Seaford United is hosting a past members' day for players and supporters at North Seaford Reserve on Saturday 4 May starting at 11.30am.
The event is part of Seaford's 50th anniversary celebrations and a past players' match will take place before the reserves and seniors take on Keysborough.
This week's games:
FRIDAY, 8.30pm: Moreland Zebras v Langwarrin (CB Smith Reserve).
SATURDAY, 3pm: Southern Utd v Heidelberg Utd (Monterey Reserve; under-12s 9am, under-14s 10.10am, under-16s 11.30am, under-19s 1pm), Caulfield Utd Cobras v Mornington (Victory Park), Peninsula Strikers v Doncaster Rovers (Centenary Park), Skye Utd v Middle Park (Skye Recreation Reserve), Brighton v Frankston Pines (Dendy Park pitch 5), FC Noble Hurricanes v Seaford Utd (Alex Nelson Reserve), Endeavour Utd v Baxter (Reema Reserve), Somerville Eagles v Tullamarine (Tyabb Central Reserve), White Star Dandenong v Aspendale Stingrays (Greaves Reserve), Endeavour Hills Fire v Rosebud (Power Reserve).