SOCCER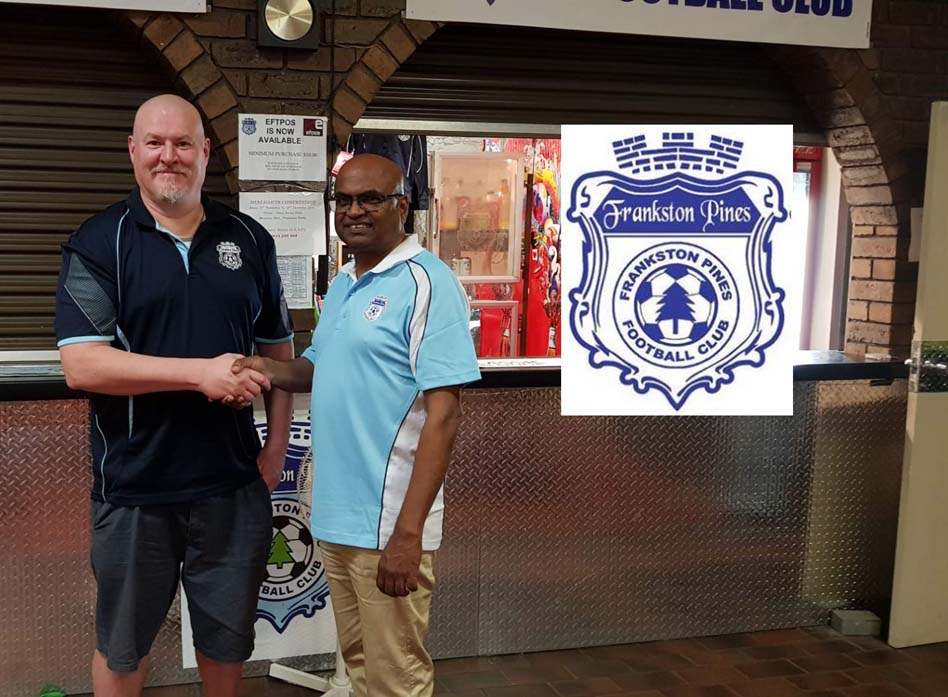 FRANKSTON Pines is on the verge of the biggest off-field restructure in the club's history as it closes in on a partnership agreement with the Victorian Multicultural Sports Association.
The VMSA is a Fijian community group and hopes to base itself at Monterey Reserve and hold tournaments and functions there on a regular basis.
Last week members of the VMSA executive met with Nick Hatzoglou, Football Victoria's Head of Community Projects and the state federation has given the green light for the partnership to go ahead.
"The CEO of Football Victoria (Peter Filopoulos) is aware of our plans and is very happy with what we propose," VMSA president Victor Kumar said.
The VMSA has strong ties with the Fiji Football Association and Fiji prime minister Frank Bainimarama.
Kumar hosted a business event for Bainimarama in 2018 attended by former Pines vice-president Daniel Plaiche and met with the Fijian PM in September this year on his first official visit to Australia.
The VMSA is the fourth ethnic community group to become involved with Pines this century following Chilean, Mauritian and Bosnian groups and although these relationships didn't last Pines president Lee Davies is hopeful of a much more positive outcome.
Pines and the VMSA are likely to enter into a binding agreement ratifying the terms of their partnership.
"The VMSA has suggested signing a formal agreement that protects both parties from takeover," Davies said.
"I think there is a clause in our constitution that says you have to be a member of the club for a specified period, something like five years, before you can nominate for president and if any VMSA member is a member of our club for five years then they have every right to nominate for president if they wish."
Kumar and Davies favour a 50:50 committee set-up maintaining the president's casting vote power and Kumar was at pains during a meeting between both parties last Friday to stress the need for a working partnership.
"We have no intentions of taking over Frankston Pines but we want this club to become a sister club of the Fiji Football Association and provide a path to professionalism for the most promising young players in Fiji," Kumar added.
Pines coaching staff Kevin "Squizzy" Taylor, Paulo Pinheiro and Linam Wang all have B licences – more than the number of B licenced coaches throughout Fiji – and plans are already underway for them to hold clinics in the South Pacific nation.
Davies holds a C licence as a goalkeeping coach.
Taylor will coach the VMSA squad that will compete in the 2019 Pacific Cup in New Zealand later this month and he is confident that CJ Hodgson and Cedric Benza (Pines), John Kuol (Bulleen), James Burgess (Springvale White Eagles), Marinos Panayi (Beaumaris) and Darcy Pawlik (Murray United) will be guest players.
Taylor also expects Chris Swain to be in the VMSA squad.
Swain is a forward or midfielder who joined Langwarrin last year from Queensland club Sunshine Coast Fire.
He switched to Altona City then Altona North and was a key player in the latter's State 4 West title triumph last season.
Swain currently is in NSW playing in the fourth staging of the National Indigenous Football Championships.
Taylor tried but failed to get Ryan Paczkowski from Oakleigh Cannons to join the VMSA squad and it seems highly unlikely that Langwarrin duo Jaiden Madafferi and Fraser Maclaren will be available.
"They've been told by Langwarrin that they are not to participate in any external competition like the All Nations Cup, for example, so I don't think they will be available for the Pacific Cup," Taylor said.
The VMSA will host a Pacific Cup Presentation Night at Monterey Reserve on Saturday 23 November and has already started selling tickets for the dinner-dance at $20 a head.
"We expect around 200 people to attend," Kumar said.
The event is a forerunner of what Pines can expect as the VMSA holds four tournaments throughout the year and various social functions which seem certain to keep the tills at Monterey ticking over.
At the tournament in NZ Taylor will get an invaluable opportunity to assess at first-hand the Fijian players playing for his VMSA side and Pines will have first option on signing them for next season.
Kumar flies to Fiji today (Tuesday) to arrange visas and itineraries for the players there who will compete in the Pacific Cup.
Some of the most promising underage internationals in Fiji have been selected and the pick of the crop could head to Monterey Reserve.
One of those players could be 19-year-old Kishan Sami, a defender or midfielder who plays for premier division club Ba and made his full international debut last year.
"I've seen a few videos of him and he looks very quick with good feet but he's not the finished product yet," Taylor said.
"However he definitely has the potential to be an NPL player."
The Fijian players hope to follow in the footsteps of striker Esala Masi who played for Pines in 2008 and made 52 appearances for Fiji.
There already have been changes to Pines senior squad with news that Cam Bryden and Lewis Potter have joined keeper Alfonso Cardinale in retirement.
And doubts persist about the availability of Callum Khiath and Serge Yanez whose 2019 seasons were curtailed due to work commitments.
But the Pines-VMSA link is not the only change planned for the local soccer outfit.
"As well as our seniors and reserves we're looking at having an under-16 side next season, over-35s and over-50s and we are well down the track of arranging an all abilities program," Davies said.
"We're also in talks with a women's team."
The all-abilities program already has a major sponsor and Pines will approach local schools this month as it rolls out the program.
Both Taylor and Davies are upbeat about the planned changes which they believe could provide the club with a stable financial future.
"For the first time in a long, long time I think we are on the brink of having a business model that will make the club self-sustaining and not reliant on people having to put their hands in their pockets," Taylor said.
In NPL2 news Langwarrin last week announced the signings of striker George Howard from Hume City and winger Delarno Pharoe from Box Hill United.
Howard, 23, has been on the books of Eastern Lions, Box Hill United, Melbourne Victory, APIA Leichhardt and South Melbourne.
"George fits the profile of the type of player we were interested in. Even though he has his career ahead of him he's been in the system for a while and worked under people I know like Jean Paul (de Marigny)," Langy gaffer Scott Miller said.
Pharoe played for Springvale White Eagles in 2018.
"I watched Delarno at the back end of last year and stayed in touch," Miller added.
"He's similar to Jordan Templin in terms of a one-on-one dribbler and he's quick and intelligent and takes things onboard really quickly."
In State 1 news Liam Baxter won't be playing with Mornington next season.
We reported two weeks ago that Baxter had agreed terms with Mornington and was hopeful of being granted permanent residency early next year.
However the Scottish striker has since been offered a visa spot with NPL3 club Box Hill United and has accepted.
In State 4 news Seaford United has identified the players it wants to sign for next season and will start approaching them and arranging interviews this week.
The club refused to release the names of any targets and confirmed that it has not lost any players from last season's senior squad.
Seaford will not start pre-season training until mid-January.