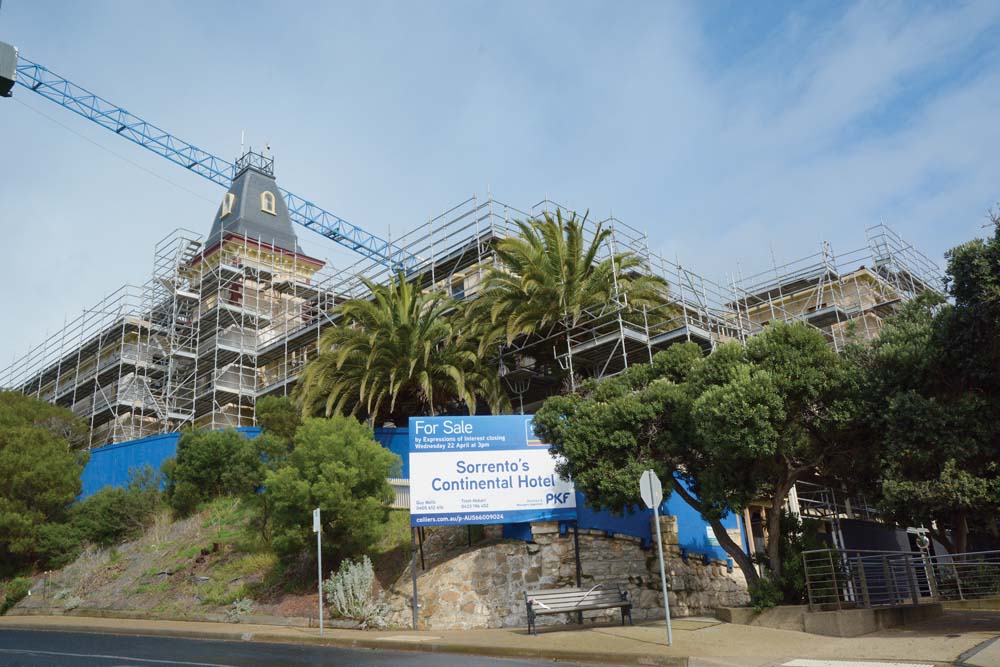 A NEW suitor has announced intentions to bring the grand old dame of Ocean Beach Road back to her former glory with prominent Melbourne developer Trenerry Property Group buying the 145-year-old Continental Hotel for a reported $14.5 million.
The company has signed what is described as an unconditional contract after first mortgagee Manda Capital Holdings appointed receivers PKF Melbourne to again put the property on the market through Colliers International. Despite what appears to be a good cause for celebration, neither Colliers' Guy Wells nor Trenerry director Rob Dicintio would comment on the deal last week.
The derelict construction site has been an open wound on the Sorrento streetscape since 2016. Its resurrection will be welcomed by supporters – including the Nepean Conservation Group – who feared it might just sink into its foundations during winter storms. ("Turnout proves Conti dear to Sorrento's heart" The News 8/7/19).
Yet many locals will be forgiven for saying, "We'll believe it when we see it" after a cursed run in developing the four-storey limestone icon had it mired in controversy, dashed hopes and failed partnerships.
Hotelier and Sorrento resident Julian Gerner was left lamenting his dream of an $80 million refurbished hotel, dining and apartment complex with high-end wellness centre, when first he backed away claiming the project was too much for one man. ("Hotel's revamp 'too big to handle alone'" The News 13/11/17).
The wheels fell off again when Mr Gerner's much-hyped joint venture with Steller Property Group ("Partnership to restore hotel" The News 11/12/17) ended when that company went into liquidation. A later $21 million deal to sell the project to LBA Capital also fell through when that company was found to be "unable to meet their obligations under the contract of sale". ('Conti' hopes dashed again" The News 23/9/19).
Mr Gerner thought he was on the cusp of obtaining the necessary $100 million needed to complete construction on his own despite there being a "number of complexities" to be smoothed over ("Conti finance 'close' – owner" The News 10/2/20).
It took a decision by Justice Almond of the Supreme Court of Victoria in March to end the LBA Capital contract of sale to allow the hotel to again go to market in a "clean" condition. This meant its ownership by Manda Capital Holdings was established with no encumbrances to its sale – despite $707,000 being owed to creditors, including $37,000 to Mornington Peninsula Shire Council.
So now, another new suitor with deep pockets rides in to rescue the beloved Conti.
Only time will tell whether the once-grand dame will be restored to her former glory. What is more certain is that Sorrento deserves to have the heritage-listed landmark back up and running after almost five years of missed opportunities.