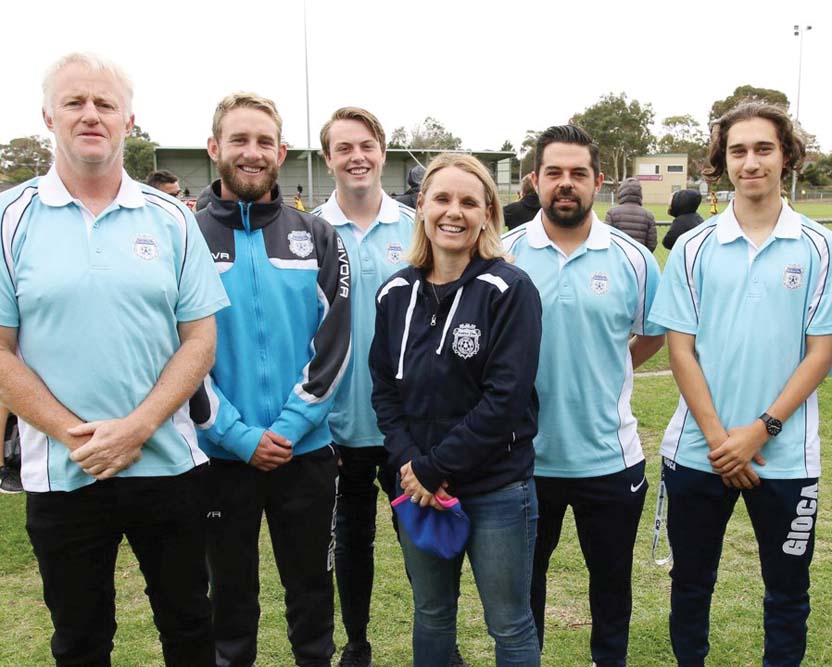 SOCCER
FOOTBALL Victoria announced a July start to the 2020 season late last week for all senior and junior competitions.
The announcement came a day before the state government withdrew from lifting some pandemic restrictions but as we went to press there was no indication of any change to FV's restart dates.
NPL junior boys are scheduled to return to competition on the weekend of 4/5 July, NPL junior girls, community club juniors and MiniRoos on the weekend of 11/12 July with senior competitions back in action on the weekend of 25/26 July.
However doubts over the NPL1 season continue with news that Bentleigh Greens have decided not to participate this year.
FV had made a number of fee-relief proposals to NPL1 clubs on the proviso that they all agreed to play so Bentleigh's decision effectively shelves FV's offer.
The federation caught clubs on the hop last week when failing to offer any fee-relief support for junior NPL competitions.
It had made offers of support throughout senior men's and women's competitions so it had been anticipated that an offer would be made to the 48 clubs holding junior NPL licences.
Langwarrin, Mornington and Peninsula Strikers took part in a video link-up on Saturday 13 June where junior NPL clubs discovered FV's stance.
"They said point blank during the meeting that they were not reducing fees," Strikers vice-president Steve Schreck said.
"And it was also made clear that clubs had to work things out for themselves if they want to give money back to parents for player fees."
Strikers have withdrawn their under-20s side and three MiniRoos teams from competition this year and are looking closely at the fee structure of their community juniors having already lowered their under-7s fees from $295 to $120.
FV also held a survey of junior NPL licence holders last week but the results were not known as we went to press.
Schreck left the FV video hook-up frustrated by the federation's response to a number of issues raised by clubs and his mood didn't change when he filled in the survey a few days later.
"Not one of the things discussed was implemented and FV just stuck to their original plan.
"There were three options put forward for the length of the season but FV only put two options on the survey and it seemed to me (during the conference) that no matter what question was put up they just seemed to stymie it."
As things stand FV plans to complete the 11-game grading section of the junior NPL season (seven rounds have already been played) by playing weekend double headers on 4/5 July and 11/12 July during school holidays.
Once the grading games are completed leagues will be structured on quality rather than geography for the remainder of the season.
That almost certainly means increasing the travel requirements as junior NPL licence holders include Murray United and Gippsland FC.
Clubs have expressed concerns about the possible public health risk that poses.
Meanwhile Frankston Pines may be the first local club to appear in Hansard after the Member for Dunkley, Peta Murphy, mentioned the launch of the club's All Abilities Program during a speech in federal parliament last week.
"Covid-19 has reminded all of us of the importance of social connectedness and that it often comes from our involvement in sport," Murphy told the House of Representatives.
"So the announcement that Frankston Pines Football Club will participate for the first time this year in Football Victoria's All Abilities program is absolutely fantastic.
"The program was established in 2017 to promote an inclusive approach to football regardless of age, gender or ability.
"Pines FC are running a Come and Try Day on Saturday the 27th of June at 10am and everyone in my local community who is interested in the program should get down to Monterey Reserve and give it a go."
In State 2 news Peninsula Strikers assistant coach Scott Morrison was linked with a possible return to Somerville Eagles last week and the rumour mill would have you believe he had a meeting with Somerville vice-president Craig Bozelle and director of football Zach Peddersen.
Morrison quickly sent that one into touch.
"No I haven't met with Somerville, not sure where that has come from to be honest," he said.
"I was up there on Wednesday as my son still plays there and they resumed training.
"I maintain that it's a great club with many great people there but I've moved on and I'm happy with the choice I made and my role at Strikers."
In other State 2 news veteran striker Caleb Nicholes made a surprise appearance at Skye United training last week.
The big man has retired twice, the first time at the end of Langwarrin's 2017 season.
Nicholes, 37, scored 192 goals for Langy and made 249 league appearances for the Lawton Park outfit while winning an unprecedented 10 club Golden Boot awards.
He was enticed out of retirement by then Skye head coach Billy Armour and played there for the 2018 season winning State 3 South-East's Golden Boot award before retiring again.
Nicholes and current Skye boss Phil McGuinness were teammates at Langy.
In State 4 news doubts have surfaced about Matt McDermott playing this season.
The Baxter central defender suffered a fractured fibula against Darebin United in their FFA Cup clash in late February.
McDermott has been unable to train and still has pain in his leg so further assessment is needed to see if surgery is required.
In State 5 news it's believed that Rosebud toyed with the idea of speaking to prolific Golden Boot winner David Greening.
That's because the Olympic Park outfit could be in the market for a striker as Mark Pagliarulo is struggling to overcome a knee injury.
He'd injured the knee in February two days before Rosebud's FFA Cup exit then injured it again at training two weeks ago.
"It was my own fault and I was getting frustrated with myself and went in for a stupid 50/50 and came off worse," Pagliarulo said.
"I'll have to get it scanned and I'm not saying anything definite until then but at the moment I'll be a spectator."
It's understood that "Pags" recommended Greening as a possible replacement but the latter may decide to remain on the sidelines.
"I've had a fair few clubs and coaches make contact but I'm very unlikely to play this year," Greening said.
"It all depends on what type of season FV rolls out to be honest.
"In my opinion it's a complete waste of time now that the starting dates have been put back to the end of July."
In other news FV announced last week that Melbourne-based company Moki International would gift Two Hands hand sanitiser packs to all of the federation's 355 clubs.
In addition to 8592 units of free product clubs will also be able to buy additional hand sanitiser supplies at a heavily discounted rate.
This will enable clubs to on-sell bottles of Two Hands to club members as part of fundraising initiatives.
Moki International will deliver the free Two Hands products and any additional supplies direct to a club's nominated postal address in three deliveries across coming months.