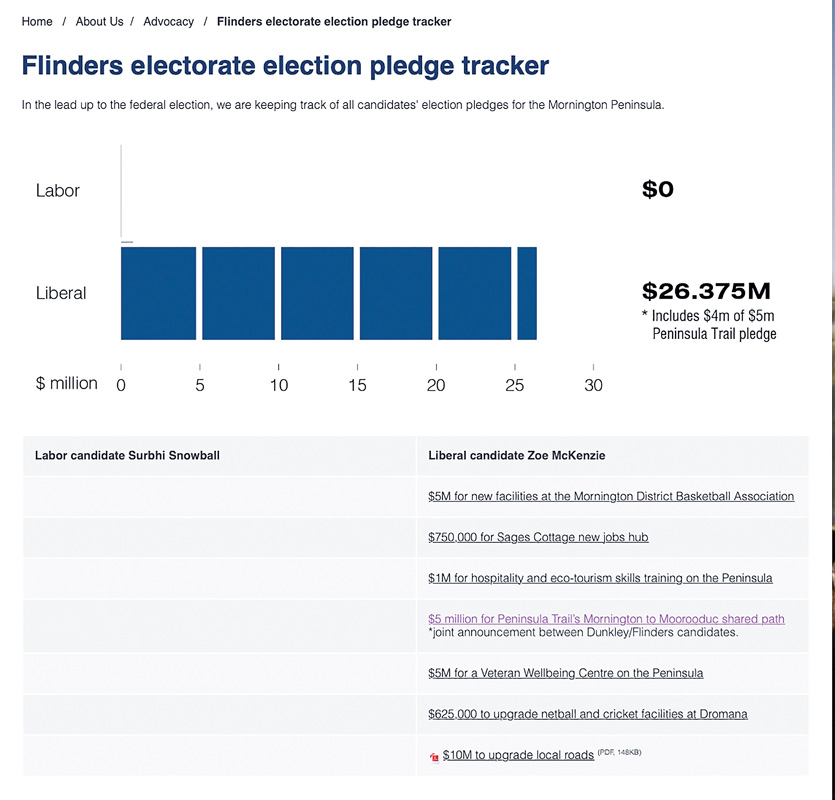 MORNINGTON Peninsula Shire has set up an "election pledge tracker" to monitor pledges made by the major political parties as they approach the Saturday 21 May election.
The shire's website mentions only the Liberal and Labor parties and as of last weekend was showing the Liberals as having pledged $16.75 million and Labor with nothing.
Two weeks ago, the mayor Cr Anthony Marsh and deputy mayor Lisa Dixon posed for photographs alongside Liberal candidates Zoe McKenzie (Flinders) and Sharn Coombes (Dunkley) when they announced more money for the Peninsula Trail, a shire project.
Marg D'Arcy, campaign manager for Labor's Flinders candidate Surbhi Snowball, said her party "has made pledges": A $500,000 community battery for Flinders and $50,000 for a literacy and numeracy centre at Somerville Secondary College.
The Greens – not mentioned by the shire – has promised to introduce an $8 billion free national dental policy.
First published in the Southern Peninsula News – 10 May 2022