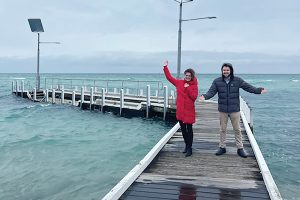 BOTH major political parties took to Mornington Peninsula beaches last week in a bid to win hearts, minds and votes.
With fewer than 90 days before the Saturday 26 November state election, candidates are beginning to make their presence felt among voters: putting up signs, shaking hands and offering photo opportunities.
The Liberal candidate for Mornington Chris Crewther started off the week with Brighton MP James Newbury and meeting supporters at Hawker Beach, Mount Martha.
The pair jointly released a statement saying that "a Matt Guy Liberals and Nationals government" would commit $10 million on "a comprehensive erosion plan" for Port Phillip.
The Department of Environment, Land, Water and Planning is already undertaking a coastal hazard assessment of Port Phillip, although it is yet to publish its findings.
Newbury, the opposition's bay protection spokesperson, said erosion around the bay was a "serious issue" and the fragile coastline must be preserved.
Crewther said the Liberals and nationals "want our children and their children to be able to enjoy" the bay.
The statement also quoted Liberal candidate for Nepean, Sam Groth, as saying the commitment (for a study) "will deliver a desperately needed solution" for peninsula beaches to be enjoyed by "locals and visitors".
Two days later the state Labor government's Fishing and Boating Minister Sonya Kilkenny, the MP for Carrum, was at the water's edge around the peninsula promising a review of boat ramps, parking "and the opportunity to incorporate all abilities access to both ramps and jetties".
Nepean MP Chris Brayne was on the tour with Kilkenny as was Labor's candidate in Hastings, Paul Mercurio, who has been given leave to campaign while his duties as a Mornington Peninsula Shire councillor are being taken care of by the mayor, Cr Anthony Marsh. Cr Despi O'Connor was on hand at Hastings.
Kilkenny said the second stage of work to upgrade the Hastings boat ramp "will soon be complete" and the government had put $100,000 towards repairing the jetty at Rye ("Jetty closed for repairs" The News 15/8/22).
Kilkenny and Brayne also visited Mornington, where the Labor Party is yet to announce a candidate.
Kilkenny said the government was also stocking Devilbend Reservoir with trout "making it a great day out on the water with family, friends and loved ones".
Brayne said boating and fishing went "hand in hand" on the peninsula "which is why we're investing in providing better facilities and stocking more fish into our waterways to encourage more people to get outdoors and spend time on the water".