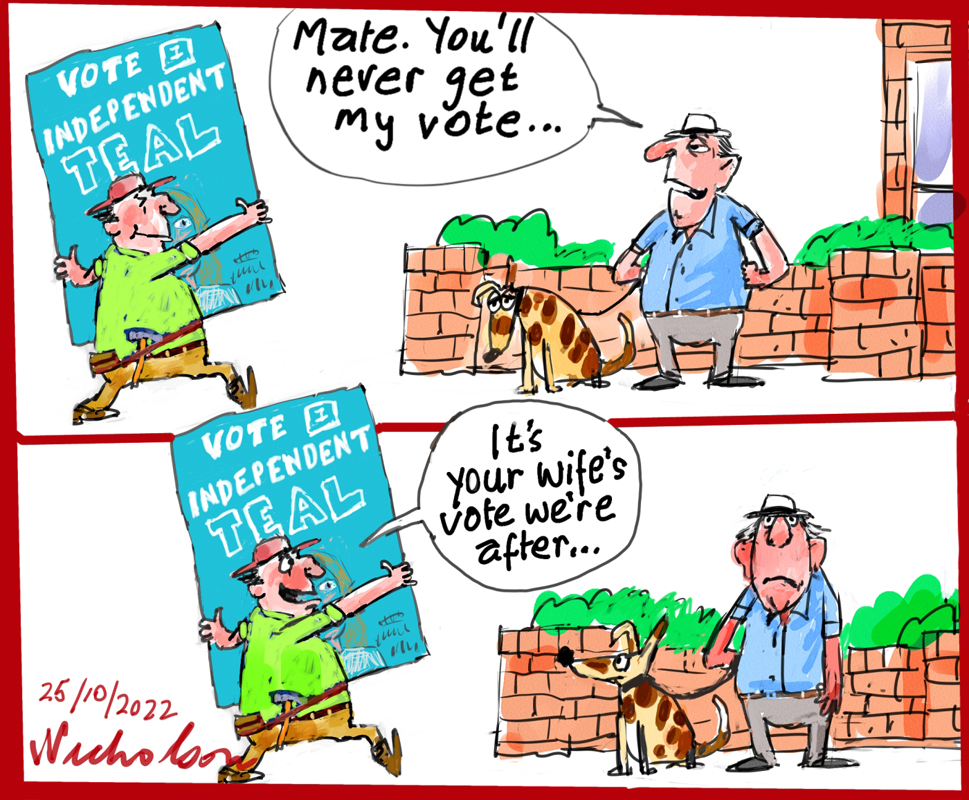 No need for a cold call, I'll call you (if needed)
Real estate agents in Mount Eliza have been cold calling my home, offering to list our property and informing me of the wonderful prices being achieved in our area.
I have issues with this initiative. First, as members of our local community I would have expected they would understand that our privacy is important to us, and that their calls are unsolicited, intrusive and unwanted. This applies particularly to those of us who are of a particular later life demographic.
Secondly, our number is private and not listed in any phone book or other authorised listing. This implies that the agents are using a "list" acquired from a third party. I have not given any listing vendor the right to use my number.
If real estate agents wish to inform me of the great opportunities their services may give me, then please drop a letter or dodger in my letterbox. I can decide what steps to take, although most often it is in the recycle bin, as my letterbox cries out "no advertising materials".
So, listen in agents: desist, stop phoning me.
Howard Mitchell, Mount Eliza
---
In-flighting not new
The Tyabb Aero Club, in existence since the 1960s, gained legitimacy with VCAT (the Victorian Civil and Administrative Tribunal) declaring it an airport ("Aero club given clear air to operate" The News 11/10/22).
Tyabb is not the only airport in continual fights with the local population. Toowoomba airport has been at loggerheads with detractors for decades. The argument for Toowoomba, as it is for Tyabb, is the time difference between the emergence of the airport and the suburbs surrounding it.
And that answer comes right back at councils that continue to allow developers to buy and develop land right up to the boundary of an airport.
Anne Kruger, Rye
---
Speak for ourselves
As a long time resident of Tyabb I am fed up with people who live elsewhere telling the world what the people of Tyabb think ("Sensible outcome" Letters 18/10/22).
No one in Tyabb wants the airfield shut down, just controlled, so the residents can enjoy the peace they are entitled to.
As far as giving back to the community, the money from the air show is largely the result of community groups doing their own fundraising at this event, kindly allowed by Peninsula Aero Club.
If you don't live in Tyabb, please don't speak on our behalf.
Tina Bennett, Tyabb
---
Money takes flight
My blood levels are slowly diminishing. I have written a letter, although my English skills may leave a lot to be desired. Readers may feel my anguish and feeling of futility when I read on the agenda for Mornington Peninsula Shire Council's Tuesday 18 October meeting that a further $350,000 has been given to the Peninsula Aero Club on top of other grants from the state and shire.
I have followed this issue since 2004 and, unfortunately, we battle big money and the alignment of councillors to this particular entity over the years.
Unwittingly, they may have been duped. But to the community $1 million dollars is a lot of money to give to a private entity.
David Lines, Tyabb
---
Rail against time
I was very disappointed to read that the "Victorian Liberals have promised to extend the Frankston train line to Baxter if they win the state election" ("Promise to pay for Baxter extension" The News 11/10/22).
In the last state election it was mooted at a cost of around $500 million, which has now increased to $971m, with a business case in 2020 revealing that it could cost $1.5 billion.
This is an incredible amount of money for something that is adequately serviced by a small diesel carriage (whose timetable could be revised if required) and would cause wide scale clearance of native vegetation.
The Liberal claims of "so long overdue", "gets people out of cars", "service the hospital and university" and "help kids get to major sporting infrastructures" are grossly exaggerated.
I would like more of my taxes to be spent on sustainability.
For example, $100m would provide 100kw solar systems to 500 schools and $100m would finance feral proof fencing for roughly 170,000 hectares within national parks, thereby enhancing and protecting biodiversity.
All levels of government must embrace sustainability, or the natural functioning of our planet is doomed.
Henry Kelsall, independent candidate for Frankston
---
Edbrooke misses train
Frankston is supposed to be represented in state parliament by Paul Edbrooke. However, Mr Edbrooke has steadfastly refused to help our region gain his government's support for electrifying and extending the Frankston train line through Frankston East, Karingal and Langwarrin to Peninsula Link freeway.
For the first time our community has been able to read why ("Labor rules out rail plan 'without checks'" The News 18/10/22).
Mr Edbrooke claims the project could wipe out the historic Frankston signal box. Then don't let it, Mr Edbrooke. The state government has the final say over that decision.
He also claims the project potentially requires bulldozing of hundreds of homes. No it doesn't. Acquisition of a sliver of a Monash University car park might be necessary for a new station, but at this early stage any option involving destruction of homes can be replaced by another alternative already on the table.
Mr Edbrooke says the project would mean destruction of 10 hectares of green wedge land. That's not correct either. It might have been if train stabling was required, but the stabling was built at Seaford in 2020.
Frankston's rail extension is a nationally recognised infrastructure project that the federal government is committed to building and has partially funded. It has a clear public benefit case and is one of only three national infrastructure priority initiatives listed by Infrastructure Australia in 2020 as urgently needed by Victoria within the next five years.
Recommended by the state 92 years ago, it would replace the Stony Point service – the most unreliable train service in Melbourne and the only one using old, dirty diesel engines.
The only thing now stopping the rail extension is the support of Mr Edbrooke and his state Labor government. Come on Mr Edbrooke – it's time you got on board.
Rod Evenden, chair, Committee for Greater Frankston
---
Injecting debate
Frankston MP Paul Edbrooke is quoted as saying "I have people at my office asking me if their home is going to be bulldozed now", but his office in Beach Street has been manned only in the last week after being empty for many months at taxpayers' expense ("Labor rules out rail plan 'without checks'" The News 18/10/22).
How could people go to his office to see if their house is to be bulldozed, or is it his staff he is talking about?
How much rail crossing removal work has been done in Frankston?
I did not find Edbrooke to be very convincing when he said that there was no proposal for a safe injecting room in Frankston. He should state more clearly if there will be an injecting room and whether he will oppose it.
Russell Morse, Karingal
---
Educational moves
While private school funding in Australia has increased five times the rate of public schools over the decade of COALition rule, only 17 per cent went to government schools, despite the fact that they educate about 65 per cent of all students and more than 80 per cent of the most disadvantaged students.
Victorian Liberals are promising private school a cash splash to bring "private facilities" up to date, while government schools languish in poverty.
There has been a disproportionate increase in executive salaries at independent schools, with some principals at large, capital city schools now earning well over $600,000 while average salary for a school principal is $80,481 a year in Victoria.
Matthew Guy and the Victorian Liberals are promising $175 million to Victorian private schools because exploiting JobKeeper wasn't nearly enough.
The Gonski Institute for Education report was removed from the website by the COALition government after the 2013 election and ignored for the next decade.
On the other hand, Labor will upgrade More than 40 Victorian schools which will be made more inclusive for students with disabilities as part of a $7.89 million funding boost and a $6 billion hospitals project to build a new medical precinct in inner-Melbourne and upgrade two nearby facilities which has been billed as the biggest in Australian history.
Who knows what Mornington Peninsula Greens are about, other than worrying if a sausage sizzle fundraiser for the branch should not be held because it would offend some vegetarians?
Joe Lenzo, Safety Beach
---
Bus welcome
As a disability worker on the Mornington Peninsula, I would like to thank our local member [Nepean MP] Chris Brayne for the introduction of the flexi-bus.
This is a truly innovative and extremely welcome initiative.
The flexi-bus has now made travel less burdensome for people in the disability and aged care sectors and it can increase community participation.
The flexi- bus is an added option for people to be able to access their community. For a small fee, the bus will come straight to your door and take you to your desired destination. Wheelchairs are also included. Thanks to Chris, this will make a very positive change for many people.
Geoffrey Merrifield, Rye
---
Scamming for votes
Scammers are on their marks, not for money, for your vote in the upcoming state election. If I voted in the Mornington seat I'd try mental health nurse Georgia Fowler – I like the name.
Not to be outdone our Mornington Peninsula Shire Council is also into the election result, indirectly of course, but clear enough for those with two eyeballs, with a $158 million "shout" for road trauma. Fair enough the need for road improvements, but it's all about timing. "A lack of government assistance," said our seemingly non-political mayor.
I ignore the home phone calls but as expected, they access my iPhone. I'm a Nepean voter, my vote is a given, for young [Labor MP for Nepean] Chris Brayne, heavily into "doing" rather than false, double-edged promises.
Cliff Ellen, Rye
Independent advantage
The candidacy of Dr Kate Lardner in Mornington offers voters the opportunity to elect an independent woman to represent our community and break from the scandal-ridden and rudderless policies of the current Labor and Liberal parties in Victoria.
We saw the break from traditional voting patterns in the last federal election. This can and should continue in Mornington.
Kate was born, raised, and educated in Mornington. She is a practising physician at a local hospital and now raising a family here. She wants meaningful actions on issues important to all Australians, climate change, reducing our dependence on fossil fuels and transparency in politics. She can bring an independent voice for Mornington in the Victorian legislature.
Charles Wyatt, Mornington
---
Floods preventable
We lived at the Riverside Motel Wahgunyah on the Victorian bank of the Murray River for the past 20 years. We had a major flood in 2016 with the water 600mm below our floor level.
We have dodged a bullet and moved back to safe and secure Mount Eliza.
The motel may be flooded for the first time since it was built in 1973.
The sole reason for our current floods is that our dams are not big enough to hold all the water that falls as rain in wet years like this.
The Murray River has for the past 150 plus years flooded or had a drought in six to 10-year cycles. Sometimes it flooded two years running.
During the last drought, the environmentalists said we would never have heavy rain again, so the previous state government built a desalination plant.
Guess what, the heavy rain has returned. Our dams are not big enough carry all the excess water and they are now all overflowing causing massive flooding downstream.
This is the one in 200 year flood that we have not prepared for, and records have only been kept for 150 years.
In The management of our dams our state government and the Murray-Darling Basin Authority is totally incompetent, they will not release water early for flood mitigation because they are not paid for it by the irrigators.
They would rather flood downstream communities by letting out water when it is too late, to protect their dam walls. They have no consideration for the welfare of downstream communities, only maximise their profits
Lake Dartmouth is overflowing for the first time in 26 years, all of our existing dams are full, the excess water has to go somewhere. This whole disaster could have been prevented.
Terry Young, Mount Eliza
---
Letters – 300 words maximum and including full name, address and contact number – can be sent to The News, PO Box 588, Hastings 3915 or emailed to: team@mpnews.com.au