IT was a day of celebration at St John's Anglican Church, Flinders on Sunday 4 December, when the Archbishop of Melbourne, The Most Reverend Dr Philip Freier, dedicated a stained-glass window created by renowned glass artist David Wright OAM and his wife Sue McPhee.
The window, titled The Light, is the third in a project of three windows titled Sea Windows that now grace the southern side of the 130-year-old King Street church. Each window weaves the Christian story of Jesus with the fragile ecological environment of Flinders and its surrounds.
This window celebrates the rough and magnificent coast on the ocean side of Flinders.
Wright said the salt spray from the ocean was included because it was used by such vegetation as the coastal saltbush and samphire, which flower and fruit from which the honeyeaters feed.
He said wrens found succour and safety in the leaves of the saltbush and "we humans may find saltbush chips or samphire on our menus".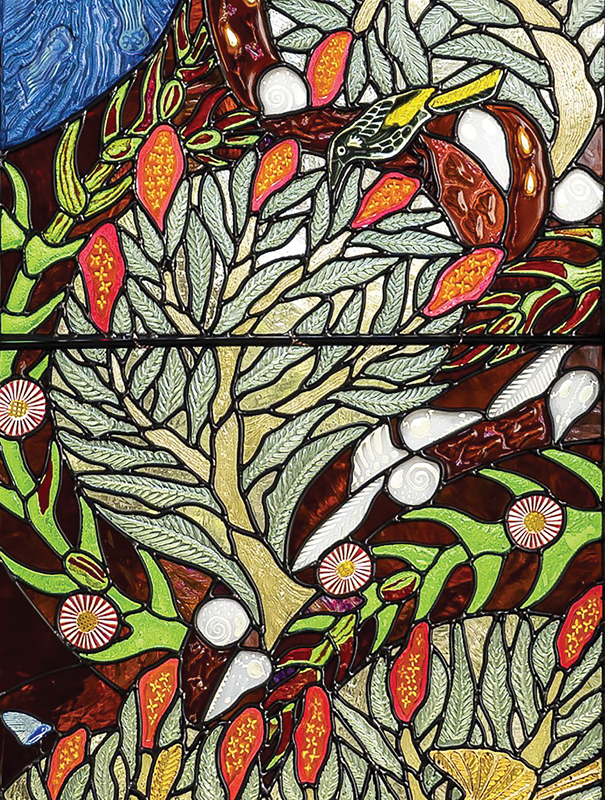 "Just so, our shared salty tears of sorrow may be transformed by love to wisdom and fruitfulness as our faith in Christ lights the darkness," he said.
Following the dedication service, the archbishop also dedicated a garden created by the parish to thank the artists for their creative gifts, not only to the church but the wider community.
In the afternoon, a recital was held premiering Melbourne composer Caerwen Martin's specially commissioned piece Sea Suite, which drew inspiration from the windows. This was performed by the Inventi Ensemble; contralto Liane Keegan performed Elgar's Sea Pictures.
Wright's art is held in the collections of the National Gallery of Australia, the National Gallery of Victoria, the National Glass Collection and Australian and overseas collectors.