Council's 'discriminatory' choice of flags to fly
Our Mornington Peninsula Shire offices and council should remain apolitical and not promote any legislation that our government promotes ("Councillor to undergo 'development training'" The News 24/10/23). Why is it that this shire bows down to the government of this day on many issues and particularly with the LGBTQIA+ agenda?
Let's celebrate diversity and inclusion, shall we? Why not fly a flag with a fish celebrating Christians? They are a minority. Or why not a People with Disability flag or an aged flag? Or why not design a flag for the homeless? Since this shire claims to value, respect and celebrate diversity and inclusion, let's then embrace all. These are all minority groups too.
Since we have so many flags flying outside all our shire offices, Mornington, Hastings and Rosebud, I speak on behalf of many of this shire's constituents and demand that this shire remove the LGBTQIA+ flag or put up those I have mentioned, and more, as they are being discriminatory.
Our shire offices look ridiculous and look like something out of the nursery rhyme, "There was an old woman who lived in a shoe's" washing line.
The LGBTQIA+ community is no different to any other. Singling it out by flying a flag in its "honour" is certainly singling out a sexual life choice that is not anyone's business and pushing the government's narrative. Under no circumstances should this happen.
Something very fishy is going on here with our Mornington Peninsula Shire.
Since it is us, the rate paying constituents paying these councillors, it would be nice if we were asked what flags we would like flown in our shire.
We pay our rates and our taxes, and this shire seems to be double dipping as it is a voice for the government rather than a voice for its constituents.
Felicity Benson, Mornington
---
No gag for councillor
As a Blairgowrie resident of over 30 years and ratepayer I write to support Susan Bissinger, my ward councillor ("Councillor to undergo 'development training'" The News 24/10/23).
I've watched with shame and disgust the demands that my representative, Susan Bissinger, undergo re-training because she's correctly and courageously voicing, not just my opinion, but the majority of this community? These tactics may be acceptable in China, not here.
Susan Bissinger is simply doing a job that I, as part of a majority, elected her to do. When her free speech is silenced, I too am silenced and the shire CEO John Baker and mayor Cr Steve Holland are not entitled to do that. If they believe they can censor my free speech they are the ones who need re-education.
I, the person who pays their income and many others, see their "virtue signalling".
Take down that inappropriate Pride flag and address real issues like homelessness on the peninsula. It's time to put normal decency and respect for us ratepayers back on your agenda.
I demand they stop silencing my representative, Susan Bissinger, and immediately cease any discrimination against her.
Ellen Bigelow, Blairgowrie
---
Restrictive libraries
Public libraries are a fabulous community asset and should be made as welcoming as possible to as many people as possible.
So, I have been a little perturbed in the past couple of weeks by what I have observed.
First, there was the group of high school students who wanted to use some facilities. However, none of them had a library card, and they could not sign up for a library card without on-the-spot parental permission.
So, the group trooped out the door – who knows if they will ever darken the door of a library again? Such a lost opportunity.
Given that teenagers as young as 14 can access their own Medicare card and attend health services such as Headspace autonomously, it seems very peculiar that a high schooler cannot promote their own independence and access a simple library card.
If it were up to me, I would promote a policy of signing up all year seven students across the peninsula with their own library card.
Second, signs have popped up across library spaces proclaiming no photography is allowed.
In swim and dance and sports classes all over town there are signs reminding parents to only photograph "their own" children. However, an outright banning of photography is not enforced.
I cannot understand why our library service has gone down this path.
What if adults want to photograph each other? Perhaps the film club wants a group selfie? Or a visiting disabled patron wants to pat the library dog and have a photograph to remember the happy occasion?
The library service has asked the public to comment on its future. My comment right now is that our library service is at risk of alienating the community and not embracing it, which is a sorry state of affairs.
Bianca Felix, Bittern
---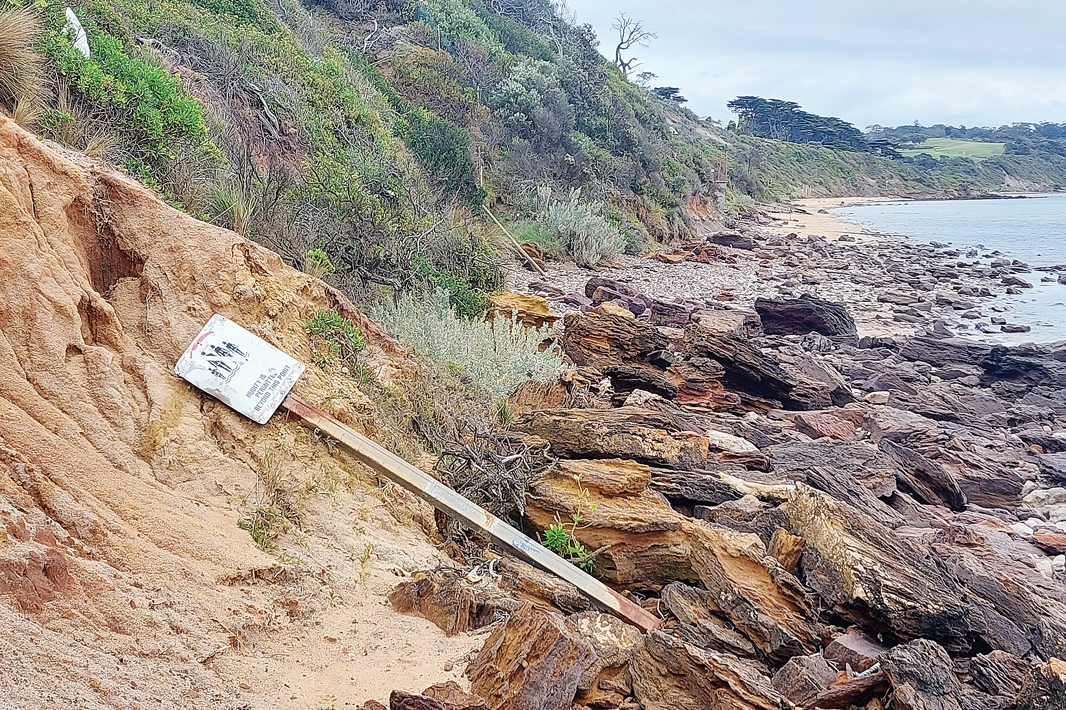 Sign remains
On 23 October at about 2pm, I received a phone call from a Mornington Peninsula Shire Council officer who told me that the sign at the northern end of Sunnyside North beach which designates the limit of the clothing optional area had been reinstated ("No easy access to nude beach" The News 24/10/23).
I went for a walk along the beach and found the same broken off sign still lying on the rocks and no new sign to replace it. I have pictures taken today showing the same broken sign still lying on the rocks.
There has been previous discussion in relation to people being naked outside the limits of the clothing optional area at Sunnyside North. Mornington Peninsula Shire Council may be considered to be negligent by failing to maintain adequate signage to advise people of the start and end of the optional nude bathing area.
More than 12 weeks and still no sign of any effort to fix this problem. Totally unacceptable given the ease which with council has been able to erect multiple signs advising of the paid beach car parking "trial".
Michael James, Frankston
---
Assess terminal plan
I was shocked to read that the state government is even contemplating dredging and reclaiming land in Western Port's Ramsar wetlands for the purpose of building and shipping infrastructure for a Bass Strait wind farm ("Time is tight for terminal comment" The News 18/10/23).
Because such a project clearly has the potential to significantly impact a "matter of national environmental significance", it should undergo an assessment under the Environment Protection and Biodiversity Conservation Act.
However, this is little consolation. In handing down his findings in 2020, Professor Graeme Samuel found the EPBC Act to be "ineffective" and "not fit to address current or future environmental challenges." He made 38 recommendations. Sadly, three years later, these are still to be enacted.
The Environment Minister Tanya Plibersek must ensure that there is a moratorium on the Bass Strait wind farm proposal until the strengthened Act has been passed by parliament. Only then can we be confident that Australia's new renewable energy projects will be assessed against appropriate standards.
Ray Peck, Hawthorn
---
Future support
One of the main issues stalling advancement of action on climate change is that many of the vocal opponents in the media and politics won't be around to suffer the consequences of inaction (presumably they are not too fussed about their children's and grandchildren's futures).
It is therefore encouraging to see the younger generation stepping up and taking action ("Sustainability starts early" The News 17/10/23). People like Cassandra Jewson are the future and should be supported in their efforts to provide a cleaner and more sustainable future.
Ross Hudson, Mount Martha
---
Limits needed
While the country is in the mood for belting up the disadvantaged (Voice for Indigenous), I thought I would get stuck into the hoard of motorised wheelchairs on Main Street, Mornington.
The size of some of these vehicles on footpaths is extraordinary.
No pedestrian is safe, and don't get me started on the dog tails protruding onto the pavement at alfresco dining areas. The RSPCA should be involved.
There should be a Mornington Peninsula Shire limit for the maximum vehicle size on footpaths, or for the pilot of same.
While some need a mobility chair, the size is the issue, and the assumed right-of-way attitude.
People on cruise liners get by with a fold-up trike. A stable footpath should be easy compared to a moving deck.
Similarly true is the growing trend for some to use them as a shopping vehicle. You see them pull up outside their choice of shop or cafe and leap off to grab a table like an Olympian. No parking problems here; just leave it at the door on the footpath.
Size limitations and displayed disability stickers should be the minimum requirement for mobility aid use on shared footpaths.
John Dusting, Mornington
---
Selective racism
During the "discussion" on the referendum I received this message from the No'ers: "As Indigenous peoples have been unable to police basic violence and sexual violence against their own women and children from when records started, they should be forced to adhere to basic human rights in their communities. This history proves that they are entirely unable to self-govern on the most basic level, as there is no improvement and possibly worsening."
Then in The News: Women facing family violence or homelessness are waiting up tom 17 months for crisis accommodation as demand surges on the Mornington Peninsula. No mention of Indigenous.
I researched "is Australia racist": One-third of all Australians experienced racism in the workplace and/or in educational facilities. More than two thirds of students from a non-Anglo background reported facing racism at school. A startling 76 per cent of Australians from a non-European background have experienced racial discrimination based on their ethnicity. Which Australians face racism the most? Indigenous Australians
[Liberal leader] Peter Dutton, politricalising child abuse, wants a royal commission into allegations of child sexual abuse in Indigenous communities, but apparently has no concerns about the white Australian population's rampant child sex exploitation, child pornography rings, or child sex slaves. Been trying to put my finger on when I heard of Indigenous Australians participating in these endeavours.
Thirty to 40 per cent of child abuse victims are abused by a family member; 50 per cent are abused by someone outside of the family who they know and trust. Add the religious and institutional child abusers and that covers most of it.
Dutton backflips again on referendum and proposes: return to Aboriginal Protection Act, reinstate the Immigration Restriction Act, and deport all who do not meet the Immigration Restriction Act (non-whites).
Joe Lenzo, Safety Beach
---
Lease is not title
It was with a considerable amount of derision that I noted the 17 October issue of The News did not include the usual Letters column.
Frankly, I was not at all surprised given the overt favouring you displayed in the past few weeks to contributors writing in support of the Yes vote.
The pleasing result was boosted for me when I read that the majority of Flinders electorate had voted No ("Peninsula in step with national No" The News 17/10/23).
Now that the dust has settled and some ugly truths have emerged, both past and present, maybe some of these soy latte drinkers might understand how their boat shed and bathing boxes on Mornington Peninsula Shire-controlled foreshores are safe for the moment. A licence to occupy is not a lease and these foreshores, along with Pt Nepean National Park, remain unalienated Crown land and exposed to native title claims.
Don't laugh. It has already happened in Sydney and Redland Bay, near Brisbane, with residents now faced with a battle over something that they never contemplated in their most wild imaginations.
Barry J Rumpf, McCrae
---
Referendum education
As a new post-referendum era dawns in our country's relations with its First Peoples, I would like to thank Willum Warrain and Nairm Marr Djambana Aboriginal associations, the Bunurong Land Council, and other local First Nations organisations and businesses like Our Songlines, Cooee Cafe, Baluk Arts and Living Culture, for enriching my life. You have allowed me to learn from your ancient cultural knowledge, wisdom and values through your openness and generosity.
All Australians could have the same precious experience if only they would engage with opportunities like this.
Maureen Donelly, Mornington
---
Watch the Swiss
Please, no more: the referendum is over. No more bitterness, no more calling other intellects stupid, racist or ignorant because they reasoned the matter contrary to your opinion.
The Australian people have spoken. This is democracy.
However, our democracy is just electing one democratic dictatorship or another ("Down of parties" Letters 24/10/23).
We elect a major party with all of its ideology, agendas and obligations. This is not true democracy.
Switzerland has a routine, simple referendum four fixed times a year, on matters of national or local significance, or policy, or law; mostly by postal vote timed over 10 days, with usually a number of yes or no questions to be answered each time. Just a routine part of life.
A citizen or group can bring forth a question by conducting a petition and getting the minimum required signatures. A question could also be asked to rescind a particular law.
Yes, I know things are different here, there would be terrible resistance to such a proposal by certain elements, and there are a lot of things that can't be put directly to the people, but wouldn't it be wonderful to have some semblance of Swiss style democracy as described, in Australia, directly encouraging governments to obey the will of the people? Federal, state and local. We could then truly say that we are a democracy.
Of course, we'd probably need a referendum to force the governments to introduce this democracy in the first place.
Brian A Mitchelson, Mornington
---
Explore local
Great insights about the Mornington Peninsula's coastal reserves from Somerville's Stefan Borzecki ("'Pristine' coast reserves 'ignored'" The News 17/10/23). It is surprising how many of us are unaware of the beautiful reserves in our local areas. We tend to get in our cars and drive considerable distances to go to a well-known nature reserve, costing us time and petrol money, when often there is a local alternative right at our doorstep.
The pristine bush Borzecki describes, including the Tyabb beach, sounds like a great place to explore.
A little extra care from Mornington Peninsula Shire Council to upkeep walking tracks might help lure more of us into unknown peninsula treasures.
For both our physical and mental health, a walk in nature is always as restorative as it is enjoyable.
Amy Hiller, Kew
---
Letters – 300 words maximum and including full name, address and contact number – can be sent to The News, PO Box 588, Hastings 3915 or emailed to: team@mpnews.com.au