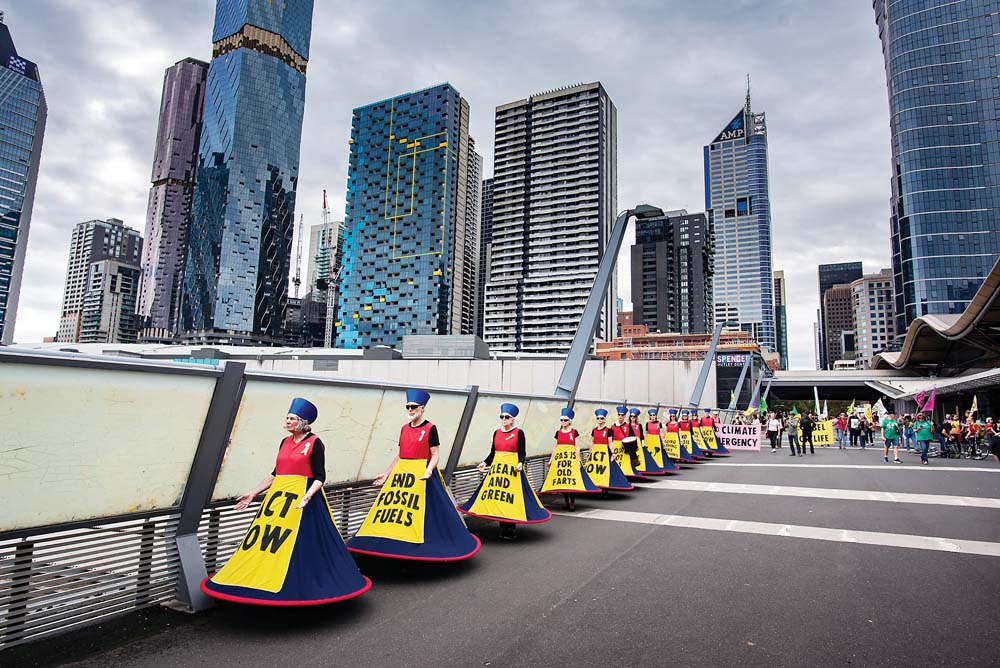 THE latest performance protest against AGL's plans for a gas import terminal at Crib Point was staged on Monday last week (22 March) with a troupe dressed as sybils, or female prophets from ancient Greece.
Demonstrating their opposition to the plan now in the hands of the state government, the Sybil Disobedients caught a bus from Bittern to Docklands, Melbourne saying they represented "thousands of concerned ordinary people living on the Mornington Peninsula and Victorian regional towns who want our governments to recognise that we are in a climate emergency".
The 12 Sybils (men and women) acted out a rehearsed performance – Exit Gas – as part of a larger "autumn week" demonstration by Extinction Rebellion Australia.
Kerri McCafferty, a Mornington Peninsula Shire councillor and spokesperson for the Westernport XR group, said the demonstration was a "most wonderful opportunity … to lead change and say no to gas".
"Our government could show all Victorians how we can support new clean energy generation and lower our carbon emissions, just like we see happening overseas," Cr McCafferty, who narrated the Sybils' performance and led the troupe around the Docklands concourse, said.
The Docklands protest came one week after Cr McCafferty joined the 500-strong March 4 Justice at Rosebud, along with the mayor Cr Despi O'Connor and deputy mayor Cr Sarah Race ("The long march that united a nation" The News 23/3/21).
The shire has also voiced its opposition to AGL's gas import terminal and other performance-type demonstrations have included protesters dressed as angels standing among Western Port's mangroves and wetsuits being worn on the steps of parliament house ("Mud no obstacle for angels' fear of tread" The News 23/2/21, "Anti-gas protesters fear Western Port wipeout" 16/3/21).
The Sybil Disobedients say giving AGL the go ahead to import liquified natural gas (LNG) would "further entrench the state's reliance on polluting carbon-based energy instead of backing emerging, renewable energy".
"… We are placing more unnecessary strain on our rapidly warming planet when we don't need to," Cr McCafferty said.
"If nothing else, we have learnt in the last 12 months that we do not live and act in isolation. What we do affects us all.
"We are COVID-weary, but our passion and determination remain strong."